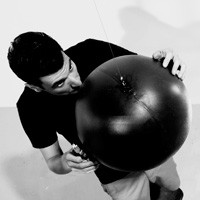 Artiste
Davide Bertocchi a étudié aux Beaux Arts de Bologne puis il a complété son post diplôme aux beaux arts de Nantes sous la direction de Robert Fleck, Stéphanie Moisdon et Philipe Lepeut. En 2000 il est choisi avec 10 autres artistes italiens  pour le « Studio Program » du PS1-MoMa à New York. Il résidera ensuite à la Villa Arson à Nice puis au Pavillon du Palais de Tokyo à Paris et exposera à l'international. Il crée des installations sonores, des vidéos et des sculptures qui font référence aux mythes pseudo-scientifiques comme la disparition de l'énergie ou le mouvement des informations. La musique et le son ont une place importante dans son travail.
ALPHA & OMEGA (THE CHICKEN AND EGG
PROBLEM) - 2009
CHROMED STAINLESS STEEL
30 CM DIAMETRE X 5,5 CM
EDITION OF 10

A stainless steel hybrid shape incorporating an
egg and a 12 inch LP.  Referential to the famous painting, the "Sacra
Conversazione", by Piero della Francesca, and at the same time, the
the obsolescence of the vinyl records. As a whole, this sculpture,
could be a mini-solar system or simply a tautology involving the famous philosophical
"chicken-or-egg" problem.