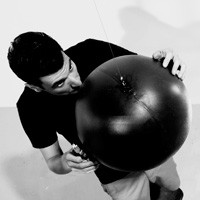 Artiste
Davide Bertocchi a étudié aux Beaux Arts de Bologne puis il a complété son post diplôme aux beaux arts de Nantes sous la direction de Robert Fleck, Stéphanie Moisdon et Philipe Lepeut. En 2000 il est choisi avec 10 autres artistes italiens  pour le « Studio Program » du PS1-MoMa à New York. Il résidera ensuite à la Villa Arson à Nice puis au Pavillon du Palais de Tokyo à Paris et exposera à l'international. Il crée des installations sonores, des vidéos et des sculptures qui font référence aux mythes pseudo-scientifiques comme la disparition de l'énergie ou le mouvement des informations. La musique et le son ont une place importante dans son travail.
USELESS REVOLUTIONS - 2009
DISCO BALL WITHOUT MIRRORS, ELECTRIC
MOTOR, SPOT LAMP
40 CM DIAMETER

A disco ball, where all the mirrors
have been patiently taken off by the artist. The ball turns as normal, but it has become a useless object
floating in space. Once the focal point of any party, its day has passed and its purpose has been altered.  Its visual impact now is perfectly inverted from an object that reflected all light to one where no light can escape its absorption.