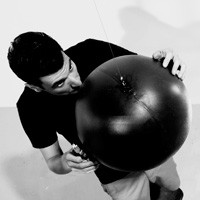 Artiste
Davide Bertocchi a étudié aux Beaux Arts de Bologne puis il a complété son post diplôme aux beaux arts de Nantes sous la direction de Robert Fleck, Stéphanie Moisdon et Philipe Lepeut. En 2000 il est choisi avec 10 autres artistes italiens  pour le « Studio Program » du PS1-MoMa à New York. Il résidera ensuite à la Villa Arson à Nice puis au Pavillon du Palais de Tokyo à Paris et exposera à l'international. Il crée des installations sonores, des vidéos et des sculptures qui font référence aux mythes pseudo-scientifiques comme la disparition de l'énergie ou le mouvement des informations. La musique et le son ont une place importante dans son travail.
Davide Bertocchi
SuperCollider - 2013

aluminium tripod, glass, skifidol slime, pate a proute, sub-atomic particles, original vinyl record.
25 x 40 x 25 cm

Ambiguity as a result of human advanced science research is a paradox that always intrigued me. For instance, when new technology goes so far that theories we know don't make sense anymore and they can't follow or explain, like in the physics of subatomic particles, it becomes also an enigma. My work SuperCollider plays with this idea, and acts as both a physical and emotional collider.

views of the exhibition:
«00ooOO» holes, dots, balls. - 2013 - by Davide Bertocchi & Shila Khatami. - Hopstreet gallery, Brussels.