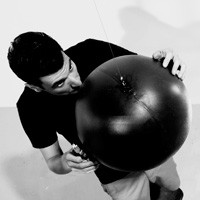 Artiste
Davide Bertocchi a étudié aux Beaux Arts de Bologne puis il a complété son post diplôme aux beaux arts de Nantes sous la direction de Robert Fleck, Stéphanie Moisdon et Philipe Lepeut. En 2000 il est choisi avec 10 autres artistes italiens  pour le « Studio Program » du PS1-MoMa à New York. Il résidera ensuite à la Villa Arson à Nice puis au Pavillon du Palais de Tokyo à Paris et exposera à l'international. Il crée des installations sonores, des vidéos et des sculptures qui font référence aux mythes pseudo-scientifiques comme la disparition de l'énergie ou le mouvement des informations. La musique et le son ont une place importante dans son travail.
A MEANS TO AN END - 2008
ALUMINUM CRUTCHES,
VINYL RECORDS OF VARIOUS MUSICIANS.
150 CM X 35 CM X 25 CM

Crutches with records from bands and musicians
who committed suicide: Joy Division, Nirvana, Dalida,
Husker Dü, Iron Butterfly, INXS, The
Temptations, Canned Heat, Lush, etc.