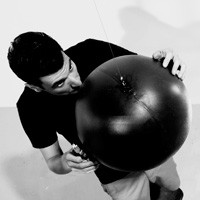 Artiste
Davide Bertocchi a étudié aux Beaux Arts de Bologne puis il a complété son post diplôme aux beaux arts de Nantes sous la direction de Robert Fleck, Stéphanie Moisdon et Philipe Lepeut. En 2000 il est choisi avec 10 autres artistes italiens  pour le « Studio Program » du PS1-MoMa à New York. Il résidera ensuite à la Villa Arson à Nice puis au Pavillon du Palais de Tokyo à Paris et exposera à l'international. Il crée des installations sonores, des vidéos et des sculptures qui font référence aux mythes pseudo-scientifiques comme la disparition de l'énergie ou le mouvement des informations. La musique et le son ont une place importante dans son travail.
EXHAUST - 2009
SINGLE-CHANNEL VIDEO PROJECTION, SOUND,
LOOP 9 MIN.36".

Several short video extracts from
YouTube; all are amateur video sound tests for car
exhaust pipes. The cars are ordinary cars, not "tuning" cars. Amongst the videos is a model for "Bertocchi Mufflers". This pseudo-biographical but completely arbitrary and self-referential aspect is a recurrent element in the artist's work. The useless roar of an engine, a polluting, wasteful, and expensive action – the dissipation of energy and how that relates to the existential condition today.